Traveling to Mexico City should be on everyone's bucket list. There is so much to offer here from culture to food to history, one week in Mexico City is perfect to see it all! 
We have visited Mexico before but knew that Mexico City was completely different. And we were right! It was amazing and a whole place in of itself. It's a must visit for anyone who loves Mexico (and tacos)!
We'll cover an itinerary and budget for one week in Mexico City, what to do in Mexico City for a week, tips for Mexico on a budget, and more!
Financial Disclaimer: As a quick note, we are not backpackers, we rarely stay in hostels, and are very cautious with street food. We like to save money where we can be we certainly spend it on what is important to us.
This is not representative of what you will spend in Mexico or Mexico City, even for the same period of time or season. This is merely an overview of what we spent and some of our tips and reasons for the amounts. Please use it as a guide to your future trip to Mexico City, Mexico!
This post is all about our itinerary and budget for one week in Mexico City, Mexico!
Mexico City Itinerary: 1 Week
Dates: 01/25 – 02/01/23; 7 nights
Lots of people may say you only need a few days in Mexico City and you certainly can do a good amount in just a few days, but there is SO much more to Mexico City and we could have easily spent two weeks there with activities to do every day! This is how we broke down our itinerary.
Just keep in mind, you will need to book ahead for some of the museums (Frida Kahlo and the National Palace especially) and events (Lucha Libre).
Day 1 – Arrive + Tacos

Day 2 – Historical Center

Day 3 – Food Tour

Day 4 – Frida Kahlo + Shopping

Day 5 – Xochilmilco

Day 6 – Teotihuacan

Day 7 – Dog Shelter + Lucha Libre

Day 8 – Leave
want a free Notion itinerary template?
Plan the perfect trip all in one place with this free Notion Travel Itinerary Template. Just enter your info below to join our weekly newsletter and get it sent straight to your inbox!
Cost of Travel in Mexico City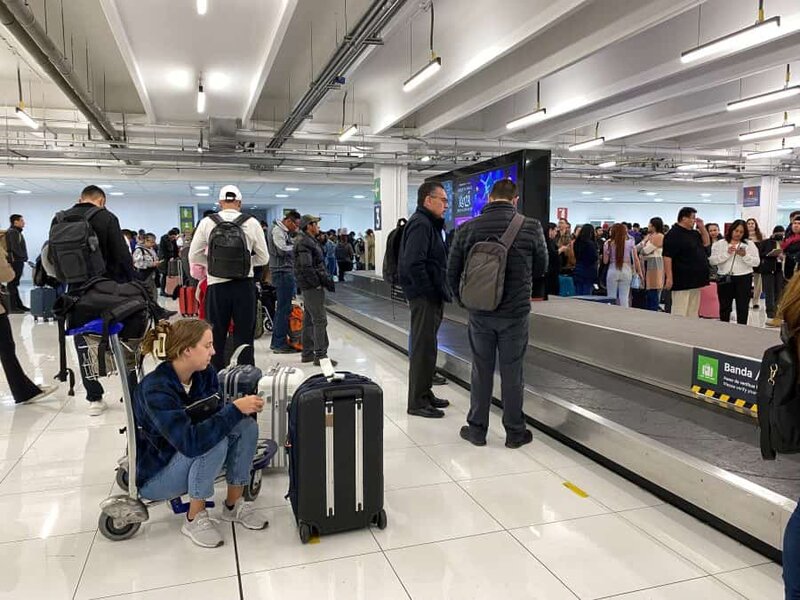 Total: $685
Woof… These flights cost us quite a bit. We flew from LAX to MEX which shouldn't really be that expensive. However, we booked super last minute (i.e. the week before). We also had an uncommonly large amount of luggage and flying on Volaris, we had to pay for checked bags and carry-on bags. MEX is the best airport to fly into and has a ton of routes to major US cities so if you find a good deal, jump on it! 
Total: $0 
As US citizens, we can enter Mexico (by air) without any visas or additional fees. We were allowed to stay in the country for 180 days without any additional forms or expenses. Super easy. I do believe that crossing any of the land borders requires different visas or permits, especially if you are driving your own vehicle.
Total: $432
Average: $61 / night
We found a great deal on a really nice hotel in central Mexico City. We stayed just down the street from the Palacio de Bellas Artes. This was a super nice area but very touristy so there were lots of opportunity for pickpockets and other various petty crimes. We did also notice a few gatherings and protests in this area since it is so close to the main government buildings.
We booked some nights with points and found a great deal but I think with the popularity of Mexico City, you can easily find a great deal. Just be aware of the location. We chose a central location and a branded hotel that had security just to be extra safe.
Total: $455
Average: $56 / day
Average: $28 per person per day
Okay, honestly the food and drink were basically the reason for us coming to Mexico City. For the most part, we ate really cheap! If you are okay with tacos, tortas, and churros, you should be fine with this low-budget and delicious menu. This is what we ate most of the time. 
However, we tried a few nicer restaurants and some unique menu items and oh boy was it worth it! The food in Mexico is amazing and Mexico City has such a wide range of budget, cuisine, and unique spin that you will find just what you are looking for.
Total: $215
Average: $26 / day
Every single day we were off exploring someplace new in Mexico City, and usually had to take transportation to get there. We walked easily around Centro Historico district on our first day. Other than that, we took Uber most everywhere. Our biggest expenses were the ride to and from the airport ($20 each way) and the Uber to and from Xochomilco ($20 each way). The biggest expense (and shock) was the Uber to Teotihuacan from our hotel that cost us $40 (!!). We did it out of convenience plus we had all our camera gear with us. We wanted to take an Uber back but there were no drivers around. So we ended up paying cash to the bus driver when the bus came for a seat. It was super easy, there is a great article that explains exactly how to take the bus to Teotihuacan that was helpful. Definitely the more budget friendly option as it was only 60 pesos ($3) per person for one way (120 pesos ($6) per person for round trip).
Total: $125
We booked Lucha Libre tickets ahead of time online (Mexico's Ticketmaster) and picked them up at Will Call upon arrival ($35 for 2). We visited the Frida Kahlo Museum ($3 for 2), the Templo Mayor Museum ($9 for 2), and a guided tour at the National Palace ($2 for 2). The Teotihuacan pyramids were $10 for 2 people. 
Our most expensive excursion was a private Trajineras boat on Xochilmilco for $75. The charge per boat per hour so the more people you have the cheaper it will be. It was 600 pesos ($32 per boat per hour) when we visited. They have set prices and it's listed in a public place so you can be sure you are getting a fair price! Although expensive, it was so worth it. We went on a weekend and the liveliness of all the other boats really added to the experience!
Top Activities in Mexico City
Total: $155
We were a little excited to be traveling again as this was our first trip of 2023. Most of this was spent on shopping for souvenirs or gifts for friends and family. But for Nate's birthday was did volunteer at a dog shelter (Nate LOVES dogs) and we ended up donating a huge bag of dog food that cost $60+. Worth it.
Are you covered for your next trip? Whether you're planning a quick weekend getaway or a long-term adventure, SafetyWing has you covered. From medical emergencies to lost luggage, they'll take care of it all. Plus, they even offer emergency response and natural disaster coverage – pretty cool, huh? So next time you're packing up to head out on a trip, don't forget to grab your SafetyWing insurance!
Total Spend in Mexico City
Total: $1,382
Average: $173 / day
Average: $86 per person per day
Total with Flights: $2,066
Honestly, this was a bit more than I was expecting to spend in Mexico. Since we were on a short trip and really piled on everything we were doing, the costs definitely added up. Transportation was our most unexpected cost as some of the activities were a lot farther away than expected (like Xochimilco and Teotihuacan). We usually do mostly free activities when traveling or pay small fees for museums. Most of the museums we visited were affordable and what we expected. Since the Frida Kahlo museum is privately owned, it was a bit more expensive. It was a bucket list item for me though and I am so glad we went. And then the Xochimilco was perfect. Honestly, so happy that we went and so happy that we were able to visit on the weekend. They have set prices so that made us feel a bit better and again it was totally worth it.
This post was all about our trip cost for one week in Mexico City!