Plan the ultimate 1 month Europe trip itinerary with our guide, featuring four iconic cities full of history, culture, and cuisine!
Are you planning a one-month trip to Europe and don't know where to start? Look no further than this detailed itinerary that takes you through some of the most iconic cities in Europe. From the romantic streets of Paris to the vibrant nightlife of Barcelona, the historic landmarks of Rome to the charming canals of Amsterdam, and the imperial grandeur of Vienna to the exotic flavors of Budapest, this itinerary offers something for everyone. Whether you're a first-time European visitor or a seasoned traveler, this itinerary will take you on a journey you won't forget.
We'll cover a 1 month Europe trip itinerary, 21 days in Europe itinerary, extending to a 5 week Europe itinerary, and more!
This post is all about the ultimate 1 month Europe trip itinerary!
The Ultimate 1 Month Europe Trip Itinerary
There are many options for transportation in Europe, each with its own advantages and disadvantages. One of the most popular ways to travel between European cities is by taking a cheap flight on a budget airline. While these flights may seem to be very affordable, it's important to factor in all fees for checked bags, carry-ons, and seat selection. Also, factor in the time and money it takes to get to and from the airport.
Train travel is another common option, with many high-speed trains connecting major cities across the continent. Train travel is often more comfortable and scenic than flying, but can sometimes be more expensive though it is still fairly affordable.
Ferries are also a popular option for traveling between coastal cities and islands, offering stunning views of the sea along the way.
For those who prefer more flexibility, renting a car is a great option, allowing travelers to explore at their own pace and visit smaller towns and villages that may not be easily accessible by public transportation. Whatever mode of transportation you choose, make sure to research your options and book in advance to save money and ensure availability.
Week 1: Amsterdam + Paris
Days 1-4: Amsterdam, Netherlands
Amsterdam is the perfect city to kick off your one-month Europe itinerary. Since the Amsterdam airport is one of the busiest in the world, this makes for a great starting point through Europe. This charming Dutch city is known for its picturesque canals, charming streets, and delicious foods such as cheese and stroopwafels. While in Amsterdam, be sure to visit the Van Gogh Museum to see some of the artist's most famous works, and the Anne Frank House to learn about the city's history during World War II. Amsterdam is also a great place to rent a bike and explore the city like a local. It's great to spend your first 3-4 days here and then take a short flight or a train ride to Paris.
Paris is a must-visit city during a 1 month Europe trip itinerary. During your first week in Europe, you can immerse yourself in French culture, enjoy delicious cuisine, and visit iconic landmarks. Start your trip with a visit to the Eiffel Tower, where you can take in stunning city views. Then, take a boat tour on the Seine River to see the city differently. Don't miss the chance to explore the Louvre Museum, home to some of the world's most famous works of art.
With charming cafes and restaurants lining the streets, Paris is the perfect place to indulge in French cuisine and wine. By the end of your first week, you'll have fallen in love with the City of Light and be ready for the next leg of your European adventure. You could easily spend months just in Paris but enjoy the city for the second half of your first week, and it's time to head south to Italy.
If you are looking for a longer itinerary through Europe, you could easily spend a week to ten days in each of these cities or add on a few nearby cities like Rotterdam from Amsterdam, Versailles, or Champagne from France. Or you could even stop in Brussels, Belgium, on your way between the two cities.
Italy is a country that offers an endless amount of sights, sounds, and flavors. Start in Rome and visit the Colosseum, the Roman Forum, and the Pantheon, where you can experience ancient Rome firsthand. Don't forget to visit Vatican City, the world's smallest country, and see the Sistine Chapel and St. Peter's Basilica.
Although I would never mind spending a week or more in Rome, since you only have a week in Italy, I would recommend pairing Rome with another city. Depending on what you are looking for, you could travel to a handful of other cities throughout the country. With train travel being cheap and efficient, you can easily travel within the country on a one-week trip.
If you're interested in more culture (and food), you can take a 2-hour train to Florence. This city was the birthplace of the Renaissance and houses some of Italy's most famous works of art. You could also visit Venice, the city of canals, where you can take a gondola ride through the winding waterways and enjoy Italian food and wine in charming piazzas and trattorias. If you're visiting during warmer weather, try heading to the coast with gorgeous small towns in Cinque Terra or luxury waterfront experiences on the Amalfi Coast. The possibilities are endless, and you really cannot go wrong with any choice. Italy is all-around just amazing.
Are you covered for your next trip? Whether you're planning a quick weekend getaway or a long-term adventure, SafetyWing has you covered. From medical emergencies to lost luggage, they'll take care of it all. Plus, they even offer emergency response and natural disaster coverage – pretty cool, huh? So next time you're packing up to head out on a trip, don't forget to grab your SafetyWing insurance!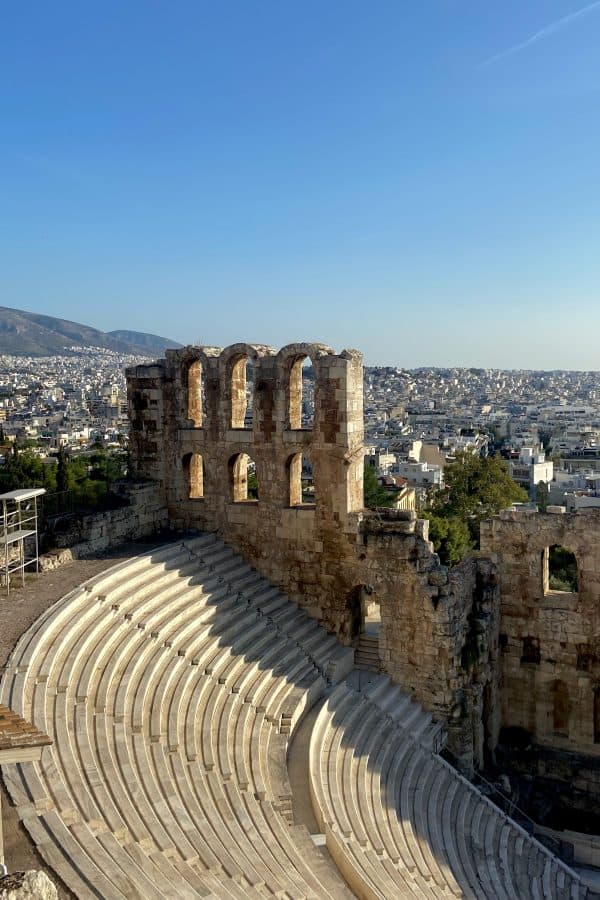 From Italy, you'll head to Greece. Greece is a country steeped in history and mythology, and a must-visit during a 1 month Europe trip itinerary. Start your journey in Athens and visit the Acropolis and the Parthenon, two of the most famous ancient landmarks in the world.
From Athens, head to any of the beautiful Greek islands. You can fly to some or take a ferry and take in the lovely views along the way. For a more traditional route, try visiting Santorini or Mykonos. But you can expect it to be busy and expensive. For a less crowded Greek island experience, visit Paros or Milos. Enjoy Greek food and wine in charming tavernas and cafes while taking in the breathtaking views of the Aegean Sea.
To fully immerse yourself in the adventurous and fast-paced one-month trip to Europe, make sure to add Spain to your itinerary. With a unique blend of history, culture, and modernity, this country has so much to offer. Start your journey in Barcelona, one of the most enchanting cities in Spain. Immerse yourself in its vibrant nightlife, visit the world-renowned museums, and marvel at the stunning architecture, including the works of Antoni Gaudi. While in Barcelona, make sure to enjoy some of the best tapas in the world and indulge in the local delicacies until midnight.
Next, travel to Madrid, Spain's capital city, via high-speed train. The city is a melting pot of cultures with a rich history and a vibrant contemporary art scene. Take some time to explore the city's many art museums, including the famous Prado Museum, where some of the world's most famous works of art are displayed. Don't miss out on the delicious local cuisines and the nightlife, which is just as exciting as Barcelona's.
This post was all about the ideal 1 month Europe trip itinerary. With so much to see and do in Europe, I hope this is just the beginning of your European adventures.