We moved abroad! These are all the questions you sent in and we answered everything as detailed (and honestly) as we could!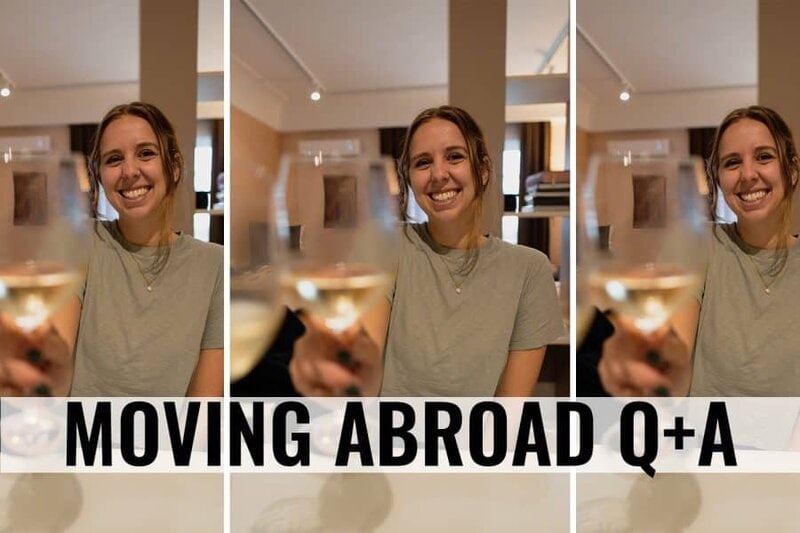 We've been traveling full-time for the last 3 years. That's three years of living out of a suitcase, having no home address, and finding a new grocery store every week. While travel is not over for us, not even close, we did realize we needed a place to call home between all the travel. And you'll never guest where we chose. 
This post is a complete Q+A (questions and answers) on our move abroad and our move to Albania specifically.
Q: Why did you want to find a home base?
2022 was super hard for us and through all the struggles we realized that constantly being on the road wasn't making me (yeah, just me, Nate loves being a nomad) happy anymore. It was making me more stressed and anxious so we wanted to get a home base to work out of between our trips. It's hopefully going to make working from home easier since we know what is here already and make us more excited for travel since it's a "trip" now and not just Tuesday.
Q: What was important to finding the right country or city to move to?
The biggest factor was safety. We want to be able to comfortably leave our apartment for a few weeks and feel safe. I want to be able to walk around town by myself and not get leered at on every corner. Luckily Tirana checks that box.
We also needed to be able to come and go as we please. We thought we could make it work with the 90 days of 180 days you get in the EU but that was not the case. In Albania we have a 365 day visa and we can come and go whenever and don't have to count days before we can go home.
As far as location was concerned, I wanted something that felt comfortable. I wanted to be able to go to the grocery store and find all the ingredients I was looking for. Italy has wonderful grocery stores and luckily they have the same chain we love (Conad) here in Albania.
Other than that, weather was somewhat important to us, price was definitely a must, and how "cute" or aesthetically pleasing it was all factored in. Luckily Tirana met all of those measurements (except cute, she is not cute).
Q: Why did you chose to move to Albania?
This is funny. We actually really wanted to move to Italy. My thought process was: find someplace that made me happy, was safe, and had normal conveniences like grocery stores I liked and pharmacies. I'm part Italian and LOVE Italy. We had such a great time there in 2021 and fell in love with the cobblestone streets, the Mediterranean Sea, the FOOD. We actually lugged all our crap there and started reaching out to real estate agents and apartment owners. And then I realized I had totally misread the visa restrictions and we only be able to be in the apartment for 6 of the next 12 months. WHOOPS. So we quickly regrouped and pivoted.
Albania is one of the few countries that offers a 365 day visa to US Citizens. So quite literally that's why we are here. We were here just over a week before we signed our lease and have only explored a bit of Tirana. It's crazy, it's impulsive, but really it's the same plan we've had all along. Make a living online so we can be location independent. This home base is now helping us work smarter between trips and it's now in Albania instead of Italy. Things change a lot in life and we still have the same goals and values but we are open to different routes to get there all the time.
Embrace the Pivot.
Q: What were your Must-Haves in the apartment?
We had a must-have list and a like-to-have list, just like House Hunters. Our list definitely changed as we started looking and we realized what was actually important to us. This is our final list for the apartment specifically:
Furnished
Safe + secure area
Within budget (€700/month with all utilities)
New building
At least 1 bedroom (not a studio)
Not ground level
AC + Heat
Good natural light
2 bedroom
In-unit laundry
Oven
Dishwasher
Cute neighborhood
Pet friendly
Building amenities
Outdoor space
Move in ready
Q: How much is it to live in Albania?
Let's get into the financials. That's one of our favorite things to talk about and we LOVE questions like these. Not because we have money (trust me, we do NOT) but because it's such a taboo topic and we want to break that barrier down. It's not taboo to talk about money.
Our budget for accommodations while full-time traveling was $45 a night, so around $1,400 per month on accommodations. The goal is to travel 2 weeks and be back at home for 2 weeks working on the admin stuff. This may be 4 weeks and 4 weeks or 6 weeks and 6 weeks. But essentially half the time traveling, half the time at home. So our budget was $700 per month for an apartment and then we could still have our normal $45 / night budget while traveling.
We ended up finding our apartment for €450/month (around $480/month). Score! But we do have to pay for utilities and internet. Our internet is $20/month and we've been told to expect our water and electricity bill to be around $100. So all, in we are spending $600 per month on our apartment, less than half our monthly budget!
We also got really lucky and our apartment was not only furnished (couch, bed, dresser, etc.) but move in ready. We already had pots, pans, plates, cups, mugs, brooms, blankets, pillows, sheets, EVERYTHING. We honestly had so much stuff I had to give stuff back. So far, we've had to buy normal cleaning supplies, trash cans, food canisters, hampers, hooks, and other little things. We've spent a little less than $400 making the apartment a little more homey.
Q: What was the rental process like?
We dove straight in and had no clue what to expect. I spent a few days online looking at "apartments for rent in Tirana, Albania" on Google. I found one site that had close to 1,000 listings. I looked through them all and found maybe 14 or so that I liked. I sent an email saying "Hey we are moving to Tirana and interested in this property." The website ended up being run by one person so I was able to get one contact but their process was poor at best and all the properties I had liked were already rented. So we moved on.
We next found Century 21 Albania and liked a number of properties available on their site. I reached out again and ended up getting in contact with 3 different real estate agents, each one representing a different property. We ended up seeing 6 different apartments in person and chose our 2nd one. We tried to negotiate the price but to no avail, they were set on €450. We set a date to come to the office with the owner and sign the lease contract and received the keys to move in! They did send us the contract before hand so we could review. It was in English and Albanian. We translated the Albanian just to be sure there was no funny business and it was word for word what the English said.
We arrived in Tirana on Thursday 2/16. Saw our first two apartments on Saturday 2/18. Signed the Lease on Thursday 2/23 and received the keys. Moved in Saturday 2/25.
Q: Was there any sort of deposit or income check?
We did have to pay for the first and the last month's rent at the signing. We also paid a security deposit (or guarantee) of one month's rent. Lastly, since we used Century 21, we paid an agency fee to our agent equal to half a month's rent (€225).
In total we had to pay €1,575 to sign the lease. This was all in cash and with Euros. Albania does have it's own currency, the Albanian Lek, but Euro is a much more stable currency allowing the owners to ensure they receive a similar amount of rent per month.
As a note, we really like our owner but did notice that Century 21 held the deposit and only gave our owner the rent for the first and last month.
Also, there was no background check, no income check, no credit check. Basically we gave our ID so they could spell our name right and that was it. We signed a contract saying we will pay for this long, and they just expect us to do that.
Q: How is it different than renting an apartment in the US?
First, you pay in cash. There are no options for paying by Zelle, direct deposit, or check. Cash only. Second, apartment complexes don't rent out apartments. They sell them and then the owners can rent them out if they want. It's a very individual landscape making it a bit more difficult to find the perfect apartment. Most options are furnished which is not the case in the US. And it's really common to get a real estate agent to help facilitate your lease.
Q: What was included with the rent?
Hmmmm… really not much. Besides all the furniture, appliances, and miscellaneous things in the apartment (which is worth a lot!). But there are no amenities at our complex. They do have nicer complexes in Tirana with pools and gyms but they run upwards of €1,200/month. We are paying for internet, water, and electricity. There is no trash service in Tirana, we actually have to walk a block to throw out our garbage. And we don't have gas, all electric appliances.
Q: How did you chose the apartment you are in?
I'm a note-taker, an organizer, and I need to see my thoughts on paper to think clearly. So I wrote notes at every property: everything I noticed, liked, didn't like, had questions about, etc. We then did a pro con list of every property. There were some that were an easy no. Like the one that had the solar system painted in the bedroom…
Fully furnished + move in ready
Walkable to a nice grocery store
Landlord is friendly and seems thoughtful
Brand new apartment (never been lived in + efficient)
American style bathroom
In-unit washing machine
Dishwasher
Outdoor space (balconies)
Good lighting (super important to me)
Located near construction zone (potential noise)
No direct sunlight
Only 1 bedroom
About a 30-minute walk to central Tirana
Not a cute walkable area
Q: How do you and Nate feel about all of this?
This is honestly more for me than it is for Nate. Nate has no problem being a nomad and living out of a suitcase. That said, he is loving having a home. We've been able to eat a lot better (real meals and not just ramen and chips like when we travel sometimes) and get routines in place that help us be more productive and healthier!
I'm so so happy to have a home again and have one as comfy and affordable as this place is. I honestly had a solo dance party our first weekend here because I was just so darn excited.
Q: Did you think about purchasing property?
Hahah, yes actually. Nate is all about getting the best deal. Always. Back in San Diego, he loved buying everything in bulk because it was cheaper per unit and if you were going to use them anyways, why not get the cheapest version of them? So we did explore purchasing a property here to live in for the next year and potentially renting out or Airbnbing it. But we just don't know anything about Tirana so far and felt that maybe we should learn a little about the city first.
Q: Hardest part of having an apartment so far?
Hmmmm… I love it. I think the hardest thing for me is my perfectionism. I want it to be perfect. Perfectly decorated, perfectly organized, perfectly clean. It's just not possible for anything to be perfect so I am trying to accept those things without going crazy.
The hardest part for Nate… our water situation. We can't drink the tap water in Tirana and we haven't found a good system for getting water yet. We are still trying to figure out if we can filter the water and if so, where to get a filter. Right now we are lugging 5 liter water bottles from the grocery store every week and going through about 7-8 a week for all our cooking and drinking! It's not ideal, and definitely something we need a better system for.
Q: Will you still be traveling?
YES. A resounding YES. This home base is just a home base between our travels. It allows us to get more admin work done between trips, book round trip tickets, and actually look forward to going and traveling again. We have our first trip coming up soon and we are super excited to get out and explore again.
2023 already has a ton planned and we are super excited to travel and come home. A good, healthy balance.
Q: Why didn't you move to the US?
Truthfully, I would love to live in the US. Nate? Not so much. The US is really expensive. There is no way would have been able to find a fully-furnished, newly-built apartment that is as nice as ours is in the US for less than $500 per month. I love the conveniences of home like Walmart, Target, Aldi, etc. I love that everything is in English and you know where stuff is in the grocery store. And the US is gorgeous with California, Colorado, Texas, Florida, Hawaii, Connecticut, and basically every other state, it's beautiful and diverse.
But it's expensive, it's crowded, and it's complicated. We likely wouldn't even be able to get an apartment there because of our income, it's inconsistent and unreliable even though we can pay rent every month, it's hard for a landlord to see our financials and say yes.
Nate loves living abroad, learning new cultures, trying new foods, and the fact that our dollar goes so much further. We found a compromise that works for us, but maybe one day we'll have a home in the US!
Q: What questions did you ask at each apartment?
We asked many questions about the apartments we liked and if we knew we didn't like them, we tried not to ask many questions. We didn't want to waste anyone's time. These were the top 3 questions we asked at each property that was really helpful to us because they differed at each location.
What is included in the rent (utilities)? If not, how do we pay those, and what is the average cost?
How do we deal with maintenance issues?
Under what circumstances will the security deposit not be refunded?
This post hopefully answered all your questions about our big move! Let us know if you have any more questions and we'll add them to the list!