Planning an upcoming vacation can be so exciting, until the night before where you have to pack everything in your closet, plus all those new clothes! Well, don't worry, these are the best travel packing tips and tricks that you will absolutely love for your next trip!
I am the packer of our family and after traveling non-stop for over the past year, I have definitely learned the best ways to pack. I have learned and will share with you everything you need to know to ensure you can pack everything you want to bring and don't miss anything you need.
This post will go over the best travel packing tips and tricks, unusual packing tips, how to pack luggage for international travel, tips for packing for a long vacation, clever packing tips, and more!
This post is all about the ultimate travel packing tips and tricks you absolutely need for your next trip!
Best Travel Packing Tips and Tricks:
Use Packing Cubes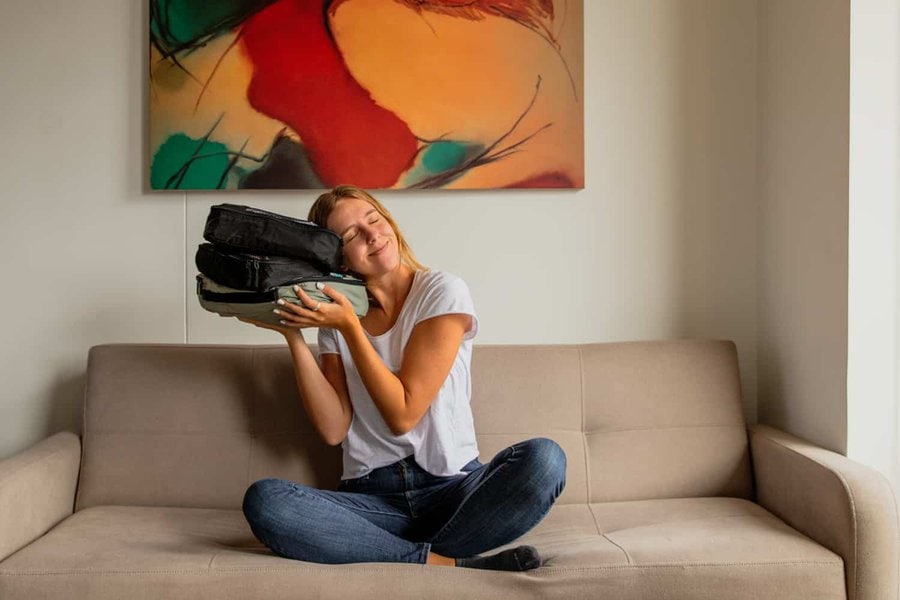 Get these packing cubes for yourself:
Packing cubes are definitely a lifesaver! You can keep your clothes so much more organized and neater when you use packing cubes. It also helps keep everything separated when traveling as a couple or family. We each have our own packing cubes and all of our clothes have to fit in them. You can use smaller packing cubes for individual outfits or all shirts go in one, pants in another. That's how we pack since we travel for longer periods of time.
> Related Post: The Ultimate Travel Essentials List
Plan Outfits

Recreate these outfits:
When planning a weekend trip or weeklong getaway, the easiest way to pack properly is to know what you are going to wear! You likely have most (if not all) of your itinerary picked out so planning your outfits should make it easier. You can always bring a few options if you have room, but at least you will have a general idea and will be less likely to overpack.
Make a Capsule Wardrobe

Recreate this outfit for all your different needs on vacation:
This has been the most helpful tip for cutting down on packing. A capsule wardrobe is where you have a small wardrobe but everything matches everything so it allows for a ton more outfits than articles of clothing. I like to keep mine as a neutral theme and every article of clothing I buy, I make sure matches all the others. This way, I am able to keep this in mind any time I am shopping, too which helps a ton! I have jeans, black pants, and tan shorts and all my shirts can match any of those bottoms so I can basically grab anything and it will match.
Pack your hats inside each other

Get this hat for yourself:
Going on vacation without a hat is basically a waste of a vacation. I travel with three hats: a sunhat, a baseball cap, and a fashionable hat. This way, I am able to pack all of these without messing them up or taking up too much room. I stack them all inside each other. and then place something soft inside (like raincoats or beach coverups) to help it keep its form. I can then pack shoes or packing cubes around it upside down in the suitcase! It takes up almost no room at all like this!
Remember the Packing Hierarchy

Get these athletic shoes!
I always try to remember what is at the bottom of the suitcase when it is standing straight up and laying down since that is how it will likely travel to our destination. I don't want to put my makeup bag at the very bottom of the bag because it will be crushed under the weight of everything else when I stand up the suitcase. As a rule of thumb, I keep athletic and sturdy shoes at the bottom so as not to crush my nicer shoes and heavier jeans or jackets on the bottom layer to protect everything else in the middle.
Put what you need first right on the top for easy access

Recreate this comfy, beach outfit for yourself:
This is the most helpful thing I have started doing when figuring out how to pack luggage for international travel. After a long flight, the last thing you want to do is have to unpack everything or dig around trying to find the right toiletries for a proper shower. Instead, I use one of our packing cubes to pack a fresh pair of clothes or pajamas and pack right on top along with our toiletries. This means when I lay the suitcase out and open it, what we need is right there. This is so helpful after a long-haul flight and especially helpful for traveling with kids (or boyfriends ;)).
Use Marie Kondo folding method

Get these cozy sweaters:
I, like everyone, was obsessed with Tidying Up with Marie Kondo when it came out. I am obsessed with organizing and purging stuff we don't use or need so this show definitely was calling me. But her folding method is honestly so easy and saves us so much space when I am packing. I use her method for shirts and especially socks and place everything in the packing cubes like she does a drawer and it works out perfectly! Folding socks as she does instead of balling them up is so much easier and better for the socks!
Limit Shoes

Get these comfy, everyday sandals for yourself:
When looking at what is taking up space in your suitcase look for the biggest things first and for us, that is always shoes. They are so bulky and you automatically double the space by packing for two. Having multi-functional shoes is so helpful when packing. We limit our shoes to athletic shoes, comfy sandals, comfy closed-toe shoes, and flip-flops. It is the perfect combo to cover everything you might need on a short trip or a long vacation. Keeping these shoes to neutral colors and simple designs that match as much as possible makes this even easier.
Get a Durable Suitcase

Get the best travel suitcase for yourself:
> Buy on Dick's Sporting Goods
Nothing is worse to start or end a trip than a suitcase falling apart, especially if that happens on the tarmac (could you imagine?!). By buying suitcases that are durable and will last you, makes packing a whole lot easier since you know it's all going to stay in the suitcase the whole time it's supposed to. We love our Thule Duffle Suitcases since they are pretty flexible in shape and can take a beating when getting packed up on the plane.
Unpack when you get there

Recreate this comfy, neutral look:
Although, technically the opposite of packing, unpacking when you get to your destination is actually really helpful! We use the drawers and hangars to keep stuff as wrinkle-free as possible. It also helps to make sure you actually see all your options. Remember that coverup you stuffed in your running shoes that you never touched? Well, if you unpack you will be able to see all your options and make use of all that stuff you brought!
Don't forget a raincoat!

Recreate this look with a versatile, colorful raincoat:
We love carrying these lightweight, thin raincoats from Columbia everywhere we go. You never know when the weather will get crazy and these jackets take up so little room in our bags that if we don't use them, no harm, no foul. I'd much rather have a backup raincoat to throw on in a random rainstorm than have to wait it out in the hotel. And we love raincoats so much more than umbrellas because they have hoods and usually the rain we have experienced is coming from all kinds of directions that an umbrella doesn't exactly help with.
Lay everything out first

Recreate these looks:
Instead of packing straight into the suitcase, lay everything out on the bed or table first. I separate both of our clothes and fold everything as I will in the suitcase. This allows me to see what we are packing and what may be too much. Do I really need two different jackets on a beach vacation? I usually cut out a few things here and then start packing the packing cubes. Then into the suitcases, we go.
Weigh your luggage before the airport
Weigh your luggage with these:
I hope that we never have to be those people unpacking the suitcases at the front desk of the airport because they are overweight. Luckily we have this handy Luggage Scale that we pack in a small pocket of our suitcases and bring with us everywhere. We can know ahead of time if one or both of our suitcases are overweight and we can adjust accordingly at home or at the hotel!
Checking Your Luggage isn't as scary as it sounds (or take as long)

Recreate this look with the best travel backpack and our favorite checked bags:
Backpacking is a huge phenomenon now among younger travelers, whether full-time or not. We love the idea of traveling light and not having to pay bag fees. But oftentimes, we hear backpackers say a benefit is their luggage is never able to get lost and they never have to wait for their luggage. We may just be lucky, but we have never faced either of these issues. The airlines put a lot of measures in place to ensure your luggage gets to the final destination safely and quickly. Most of the time when are getting to the baggage claim, our luggage is already there. If you have the means to check a bag, we recommend it so you aren't stuffing carry-on bags or having to lift them into the overhead or carry them around the airport. And we often see carry-on bags getting checked once the overhead is full!
Never check valuables
Check out these gear essentials:
Even though we love checking our bags and find it to be a fairly safe practice, we would never check our bags with any valuables in them! All of our camera gear, laptops, drone, and hard drives always go with us on the plane. You never know what happens to your suitcase when it's out of your hands and one drop could destroy your valuables. We would never put out gear at risk like that, even though we trust the airlines. Last flight I was watching them put luggage on the plane and I saw our bag and then saw it quickly rolling all the way down the conveyor belt. Good thing it's just clothes and toiletries in there!
>> Related Post: Travel Camera Gear | 22 Photography Essentials You Can't Travel Without
This post was all about the best travel packing tips and tricks that you absolutely need for your next trip!