Moving to a new city can be scary, let alone moving to a completely new country. We moved to Albania this past year and are sharing the full cost of our experience moving to Albania.
We have been traveling the world for the past three years full-time, living out of a suitcase. To say we were ready for a home is an understatement. Tirana is the capital of Albania and our new home! If you are thinking of moving to Albania, then this post is for you.
We'll cover the cost of moving to Albania, the cost of living in Albania, being an expat in Albania, and more!
As a quick note, we are pretty big introverts. As in, we could easily spend an entire weekend without leaving the house if we have enough food and drink to stay happy. We like to save money where we can, be we certainly spend it on what is important to us (and that may not be the same as what's important to you, but that's okay!).
This is not representative of what you will spend if you are moving to Albania, even for the same period of time, season, or from the same country. This is merely an overview of what we spent and some of our tips and reasons for the amounts. Please use it as a guide to your future move (to Albania or not!).
Also, take all this with a grain of salt since we did travel a bit and left Albania during some of our first 3 months of living in the apartment. 
This post is all about what the cost of moving to Albania was for us.
The Details of Moving to Albania
First, let's dive into the details of our move to Albania so you can get an idea of how they are similar to your own plans or desires.
We have been traveling full-time for the last 3 years and living with all of our belongings in a few suitcases. Before we started traveling, we sold everything – furniture, appliances, cars, towels, utensils, everything. That said, we didn't have a ton of stuff to move into our new home (or country).
Since we don't already own anything, we were looking for and rented an apartment that was already furnished and luckily fully stocked with almost everything we could need – all kitchenware, Tupperware, towels, sheets, pillows, cleaning supplies, etc. This helped us tremendously but was not the "norm" from the other apartments that we looked at.
There were certain things that were particularly important to us when moving and number one on that list was price. We were looking for something within our budget and we were willing to forgo some of the other luxuries in order to make that happen (like location).
All in, we found our apartment we were happy to rent within a week of landing in Albania and it took about a week to get all the papers signed and finally move in. We ended up moving to the north side of Tirana to a one-bedroom apartment. We are about a 30-minute walk to the main square and a 15-minute walk to the nearest grocery store. It's a quiet neighborhood that will see tons of growth in the coming years, but for now, it's pretty off the grid of Central Tirana and we like that.
Cost of Moving to Albania
All expenses are noted here in USD but I do note how we pay them (USD, Euro, or Lek & cash vs. card). 
This is the biggest reason we actually moved to Albania. Since we are from the US, there are no visas needed for any stay less than a year. We figured we could move to Albania for a year and see how it goes. If we like it, we can work on a separate visa but for now, moving to Albania for one year or less is visa-free. This allows us to travel to and from Albania as much as we want throughout the year and ensures we have no additional entry requirements or costs associated with entry. This could always change, but for now, that is the normal standard.
An odd plus is that for US citizens we can go through the automated passport control at Tirana airport which means we don't get stamps in our passport. Saving us from potentially collecting a ton of stamps from re-entering our now-Home Country.
We did fly from Los Angeles, California to Albania. However, we made a few stops along the way. We spent ten days in Mexico City and then spent a few weeks in Italy before settling in Albania. Since this was a little bit of a roundabout way to get here, the actual cost of flying to Albania will likely be different than ours. This price was for our one-way ticket from Rome, Italy (FCO) to Tirana, Albania (TIA) plus our luggage.
However, the main airport in Albania is Tirana's airport (TIA) in the capital city. There are no direct flights from America to Albania, which means every flight is going to have a layover somewhere in Europe. We just decided to make the most of those layovers.
Keep in mind when booking your flights to check on the luggage requirements and restrictions. You may have to pay for additional or overweight luggage.
Even though we've been living out of a suitcase, we did have a few things that we wanted to bring – our winter and summer gear, all of our shoes, etc. We ended up having 2 large suitcases that we checked, 2 smaller carry-on suitcases that we checked, 2 carry-on backpacks with all our tech gear, and 2 personal items for actual carry-on purposes. It was a lot to haul around, especially to 3 different countries. But we are glad we brought it, it's nice to make your home feel like home and actually has all your stuff with you.
We did not need to ship anything over from the States. However, some people want to bring their own stuff over that won't fit in packed luggage or even a car. We don't really have any recommendations for you on shipping, other than I know it can get expensive and often takes a long time to arrive. 
Expenses Prior to Move-In
Since we didn't have anything lined up prior to moving to Albania, we spent the first week and a half in an Airbnb getting to know the neighborhoods and looking at various apartments. This is a breakdown of the expenses from those first ten days.
Total: $295
Average: $29.50 / night
We did a little research on the neighborhoods and tried to book an Airbnb in one of those neighborhoods to "test it out." The area we picked was a central location so we could easily check out other neighborhoods and walk to explore the rest of the city. We booked a 2-bedroom apartment for a great price and were even able to negotiate our check-out date since we didn't know when we would be moving. Luckily, Albanians are super friendly and helpful.
questions to ask when moving abroad
We gathered all the best questions to ask when moving abroad with this FREE Questions Printable. Just enter your info below to join our weekly newsletter and get it sent straight to your inbox!
Total: $178
Average: $17.80 / day
Average: $9 per person per day
Food is very affordable in Albania. We ate out almost every day since we were busy running around with real estate agents or trying to walk the neighborhoods. There are a ton of small takeout restaurants where you can get a good meal for only a few bucks.
Buses are very cheap here only $0.40 (40 lek, cash only) for a ride no matter the distance. It's a bit difficult to figure out the bus system like where the stops are located (we've been here over 3 months now and I still have no clue). But if you get a general map you can find where you need to go and where there are groups of people. We also luckily got introduced to the bus system by one of our real estate agents which made it a lot easier for us.
The bulk of this expense was for taxis. They are metered here and with the traffic, can rack up pretty quickly. There are set prices to and from the airport to central Tirana (around $12 or 1200 lek, cash only). We did end up getting stuck in a metered taxi in the height of traffic to visit a property that was way outside of town and cost us over $25! Much better to take the bus or just walk if you can.
Total Cost of Moving to Albania – Prior to Move-In: $506
Average: $50 / day
Total: $1,680
Rent (1st and last month's rent): $960 ($480 per month)
Security Deposit (1 month's rent): $480
Real Estate Agency Fees (1/2 month's rent): $240
Our initial deposit was the standard we heard from all the properties we looked at and agents we talked to. We paid the first and last month's rent up front, a security deposit (or guarantee) equal to one month's rent, and then a fee to the real estate agency equal to half a month's rent. All of this was paid with Euros and in cash. We had to pull out money multiple times since our debit card has a max withdrawal of $1000 per day. Just keep that in mind so you can plan ahead or bring the money with you ahead of time.
They do require everything in Euros because it is a more stable currency than the Albanian Lek. We tried to negotiate on the price, currency type and the ability to pay online or via credit card, but they were unable to accommodate any of those negotiations.
We met at the real estate agent's office with the owner of the property to sign the lease and exchange the initial deposit and the keys. It was a fairly straightforward process. We received the lease ahead of time and a breakdown of all the fees due so we could review and translate to double-check. We also received a receipt of payment that was signed by everyone after paying and we received the keys immediately.
Our owner had everything set up for us prior to moving in. The electricity and water were already set up and billed to our owner. He sends us a copy of the bill every month and we pay him in cash (Albanian Lek) with our rent every month. They had the power and the water off before we moved in and they paid for the first few days of our living there since we moved in a few days before a new month which was really nice.
We had to pay for internet installation and then our bills continued monthly. Internet could have been paid annually for a lower price but we opted to pay monthly since we didn't even know if it was going to be a good service. We ended up with a Fiber Optic service and have great internet. We went through Vodaphone to get a local SIM card and it was $10 (1000 ALL and cash only) to purchase the SIM and then we pay $12 per month (1200 ALL and cash only) for 5GB of data and unlimited minutes and texts. 
Total Monthly Bills & Utilities: ~$100 / month
Internet: $20 / month
Water: ~$20 / month
Electricity: ~$50 / month
SIM card: $12 / month
Are you covered for your next trip? Whether you're planning a quick weekend getaway or a long-term adventure, SafetyWing has you covered. From medical emergencies to lost luggage, they'll take care of it all. Plus, they even offer emergency response and natural disaster coverage – pretty cool, huh? So next time you're packing up to head out on a trip, don't forget to grab your SafetyWing insurance!
This total is how much we have spent in the first 3 months of moving in and getting our home to be our home. Luckily, we were able to move into a fully-furnished and fully-stocked home. We already had everything we needed for our kitchen including pots and pans, wine glasses, plates, knives, cooking utensils, Tupperware, etc. We did end up buying a few things like storage containers, trash cans, dish mats, pot holders, a toaster, a French press for coffee, and measuring cups.
Our owner also supplied us with everything we needed for the rest of the house (I don't know how we got so lucky). But again we found we needed a few things for the bedroom like hangers, lamps by our nightstand, storage containers, extra sheets, a hamper, etc.
We bought new chairs for our dining room table since that doubles as our office, a few miscellaneous decorations to make the place more homey, towels for bathroom, lamp for the living room, and some outdoor furniture for the balcony.
My main goal was to make the place feel like home. For it to be a functional space for us to get work done and be cozy enough that it makes us happy. I am loving decorating where I can and we are so lucky to have already gotten all the must-have items supplied for us.
Lots of items were purchased at the "dollar store" of Albania (Euro 1.30), the "Ikea" (Jysk), and a home goods store, Comodita. It's unfortunately not super easy to find stuff in Albania, especially if you have something really specific in mind. But there are plenty of options to make your home comfortable at affordable prices! But trust me, I miss Amazon and Ikea so much…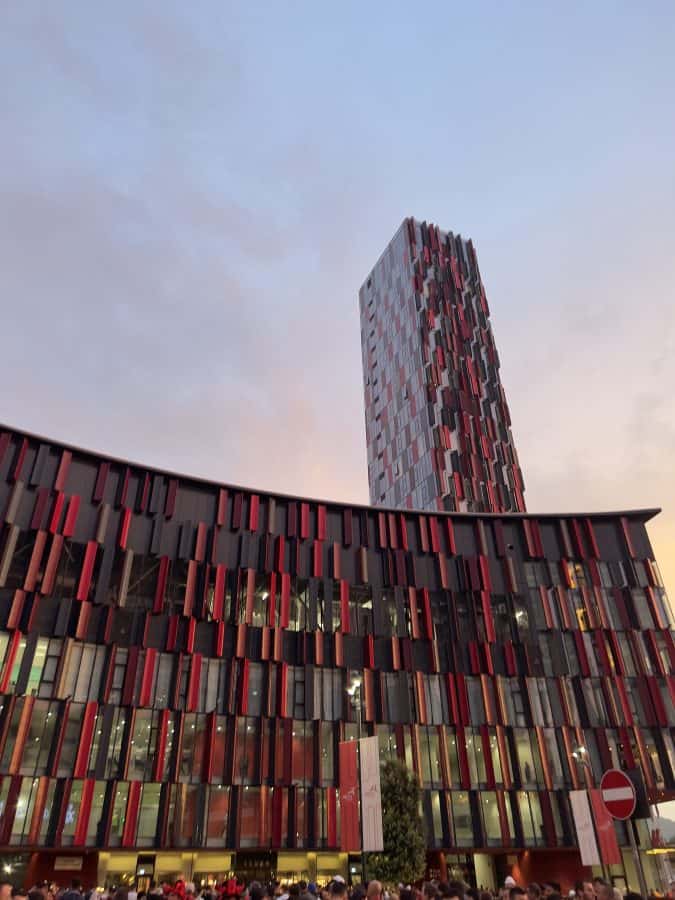 This category is not really much different than if we were moving anywhere else. We needed to buy shampoo, conditioner, body wash, hand soap, dish soap, dishwasher liquid, laundry detergent, and other miscellaneous cleaning supplies. As we are trying to be as sustainable as possible, we are using lots of microfiber cloths and a vinegar mixture for cleaning. We have pretty stinky drains (just a reality of plumbing in a newly developing country) sometimes so vinegar and baking soda are always on hand.
Pro tip: half a cup of vinegar to any laundry that will be air-dried makes it sooooo much softer! Great tip for our towels since driers are hard to come by in most of the world.
Total: $1,050
Average: $350 / month
One of our big perks of getting a home was finally being able to cook and collect spices and ingredients instead of always having to use (or waste) everything before leaving an Airbnb. We have been shopping at the two local grocery stores on our street, Spar and Conad. These are chains that have a great selection of a lot of familiar items. We have sometimes stopped by the larger grocery stores for more obscure items.
And we have since learned to shop at local stands for fruit and veggies and a local bakery for the freshest, most delicious bread. It's a problem, actually. I love bread.
Most of this is just weekly purchases over a 3 month period, but we did have to stock up on all spices, sauces, condiments, and baking ingredients (flour, sugar, etc.). The grocery is definitely a bit more expensive than I am used to but I honestly think worldwide inflation may be the cause more so than just shopping at these specific grocery stores. Plus the fact that we do buy some imported goods like cereals and peanut butter. And lastly, buying in bulk is a LOT harder than in the US. No Costco, Smart & Final, or Walmart to save the day here. 
Also yes, we buy treats for all the stray dogs and include that in our groceries. 
Since we have to buy drinking water for our house, we have to purchase it at the grocery store and haul it home. That said we don't like walking 15 minutes carrying two packs of five-liter water bottles. We have a system where we go to the grocery store once a week and pick up our week's worth of water (usually eight five-liter bottles) and then get a cab home. The cab has a base fare of $3 (300 ALL, cash only) and our place is only a quick half-mile drive so it never goes over that. As for other home shopping, we will take the bus or walk where needed. We've only had to get a cab once from the mall when we bought a few chairs and that cost around $7.
Total Spend to Move In (prior to move in + first 3 months): $4,400
Total with Flights: $4,675
This post was all about the cost of moving to Albania based on our experience moving into a fully furnished one-bedroom apartment in Tirana, Albania.