Are you getting ready for your upcoming long distance road trip and worried that it is too long to actually enjoy? Don't worry! These 17 long distance road trip tips will help you ensure you have the best road trip ever!
If you have a long distance road trip coming up, these are the best tips for you to ensure you actually enjoy the road trip! There are so many horror stories out there about terrible experiences with road trips, but luckily that has never happened for us! These tips are how we ensure we stay sane and actually have fun.
In this post, you will find the best long distance road trip tips, how to drive long distance for the first time, how to make long road trips better, the best long road trip essentials, and more!
This post is all about the best long distance road trip tips so you actually enjoy your road trip!
Best Long Distnace Road Trip Tips:
1. Plan Your Trip with Google maps
Using Google Maps makes it easy to plan a road trip. This way you can pin all the different destinations you want to reach: good places to stop for the night along the path, great diners, snacks, and all the kitschy stops. As you are driving, you can decide at each stop whether you want to stop or not. And when you get hungry or tired you can easily check the map to see what the next closest stop is. The best part, you can download the map ahead of time so even if you don't have data, you can at least follow the map! It's my absolute favorite way to plan any road trip!
> Related Post: How to Plan an Itinerary | 10 Simple Steps You Need to Plan the Perfect Trip
2. Stop at all the silly stuff
Any good road trip will have silly stops (like the giant blue whale in a lake) and you should make as many of those stops as you can! It makes for funny stories, lots of eye rolls, but it really breaks up the trip and that's most important. It is a great opportunity to stretch your legs, swap drivers, grab a snack, and how much better is it to hear "30 more minutes until the next stop" instead of "7 more hours until we're done"!
3. Use Diners, Drive-Ins and Dives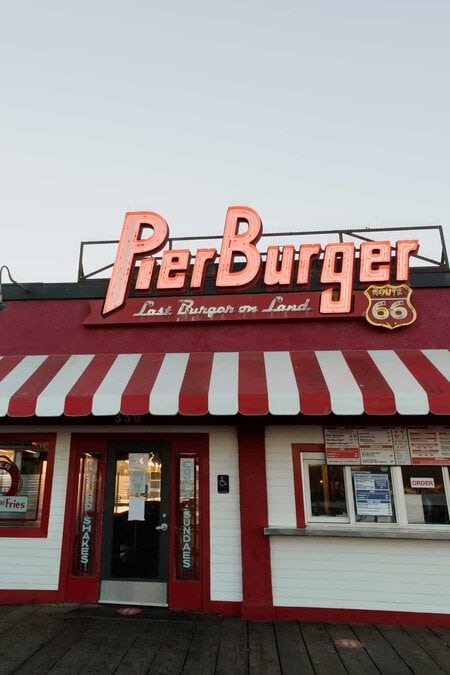 If you are road tripping in the US, we highly recommend jumping on Diners, Drive-Ins and Dives By State Guide to help direct you to some of the most unique and delicious food in the states! Plus most of these places are incredibly affordable and local. It's always easier to drive through a fast-food chain, which we definitely did, but it's always so much better to support the local restaurants and families with some great food.
We stopped in Flagstaff, Arizona at Fat Olives and had the best wood-fired pizza and beer.
4. Download more music than you think you'll need
I always have my favorite playlists downloaded on Spotify Premium so I can play them anywhere in the world, even if I don't have data or Wi-Fi (which is very often). But sitting in a car for 2 straight weeks, we ran out of music fast. So even if you already think you have enough, trust me, you'll need more.
5. Mix it up with Podcasts & Audio Books
When you get tired of the same music or your road trip partner(s) can't agree on the music, it's always a good idea to turn to a podcast or audiobook. I personally love Stuff You Should Know an entertaining podcast with some random facts and knowledge. Nate loves listening to audiobooks while he runs, so this was a perfect transition for me to try it too and it was great! Learning more about our business while driving was a win-win really. You can check out all kinds of books though with an Audible membership from fantasy to self-help to the hottest biographies on the market.
6. Plan with the weather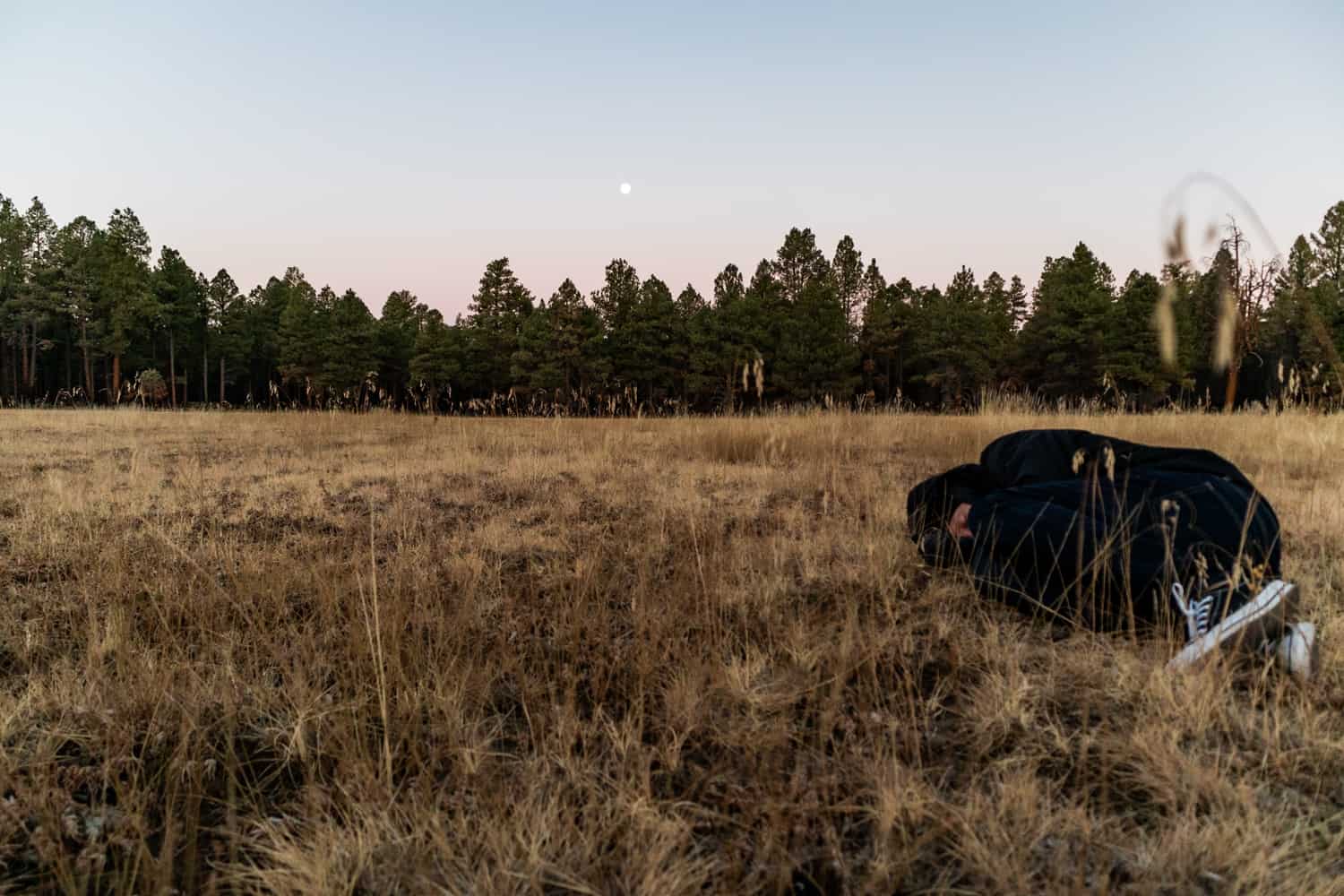 Definitely be sure to plan your trip with the weather. Of course, this may not always be possible as tornados and thunderstorms can pop up out of seemingly nowhere. However, maybe road tripping through Iceland in the dead of winter is not the best decision for your safety or enjoyment. The same goes for desert road trips in the middle of summer. You never know when your car can break down and you have succumbed to the worst of the season.
7. Always fill up at half a tank
We found this to be a good rule of thumb for our road trips as we never knew when we would see the last gas station for a while. Filling up a half tank does require you to stop more but that's just more opportunities for stretches and gas station snacks. This way you are never crossing your fingers you find a gas station in time or having to fill up at the most expensive gas station in the state (pretty sure that happened to us in middle of nowhere Arizona).
8. Have snacks in the car
Trust me, just go to Costco and buy a bunch of snacks for the whole trip and you will thank me later because this is the best of our long distance road trip tips. We seriously picked up a bulk-sized box of Goldfish, granola bars, and energy drinks and we were set for the whole trip! It was so nice to just grab a snack from the back seat quickly and not have to find a convenience store every time. And no one can get angry, which a very plausible part of road trips.
9. Put a blanket in the backseat
Whether you are driving in the colder months, in the evenings, you driving partner likes the AC blasting, or you want to stop for a picnic somewhere, having a blanket handing is a must. I used our blanket in the car once it got a bit chilly in the evenings or we were driving too late and Nate needed the AC on to stay awake. It was also perfect for our stops at the beach keeping our towels for drying off!
10. Plan for picnic meals
We easily get tired of eating out all the time, so we always plan for some picnic meals. Sandwiches or wraps are the easiest options and there are options for bringing an ice chest or not, too! We love making peanut butter and banana sandwiches for quick meals or turkey, veggie, and hummus wraps, if we have an icebox. This is great for days at parks or stopping at some beautiful sunset overlooks. This also means having something to spread the peanut butter with!
11. Have a small bag for trash
Somehow, there is always trash on a road trip. From snacks, coffees, napkins, receipts, to stray leaves and hair, having a small plastic bag in the car makes life a lot easier and keeps all that junk out of the door pockets.
12. Bring paper towels
It may add to the trash but is so helpful for so many reasons. First, car eating is never clean and tidy, especially with kids (or Nate). And fast-food napkins are always greasy and terrible or they forget to give them to you. But they also come in handy to wipe down the inside of the window if it is foggy or dirty. They work for the windshield wipers, too. And lastly, if there's no bathroom in sight, you may need just a bit of toilet paper and paper towels definitely do the trick.
13. Use hotels for bathrooms
On the topic of bathrooms, make sure you stop for them, first of all! And instead of using the fast-food chain bathrooms, as everyone does, you could stop at a big hotel chain. Marriott, Hilton, and Hyatt are the best as they are everywhere (think Hamptons and Fairfields) and usually have so much traffic running through, no one is going to know if you are staying there or not. Just walk in like you belong and head straight to the bathroom following the signs. We used to work in hotels and definitely that people did this but honestly probably couldn't tell you when or who. The best part is their bathrooms are always much cleaner and way less crowded.
14. Have a camera ready
You never know what you are going to see while you're on the road. From beautiful sunsets to wildlife encounters we didn't think possible, we were always happy to have a camera ready to go. We carried ours in the glove compartment or on the floor of the passenger seat for easy access. But you always have your phone!
> Related Pos: Travel Camera Gear | 22 Photography Essentials You Can't Travel Without
15. Drink lots of water
This is a tricky tip to balance because you want to stay hydrated but don't want to have to go to the bathroom all the time. I would honestly error on the side of too much water because driving through different altitudes or in extreme temperatures can be hard on your body. Being dehydrated is one of the easiest ways to ensure you don't have a good road trip. Bringing a good refillable water bottle is a great idea too as most hotels also have water fountains to refill!
Link Hydroflask
16. Bring a Reusable Coffee Cup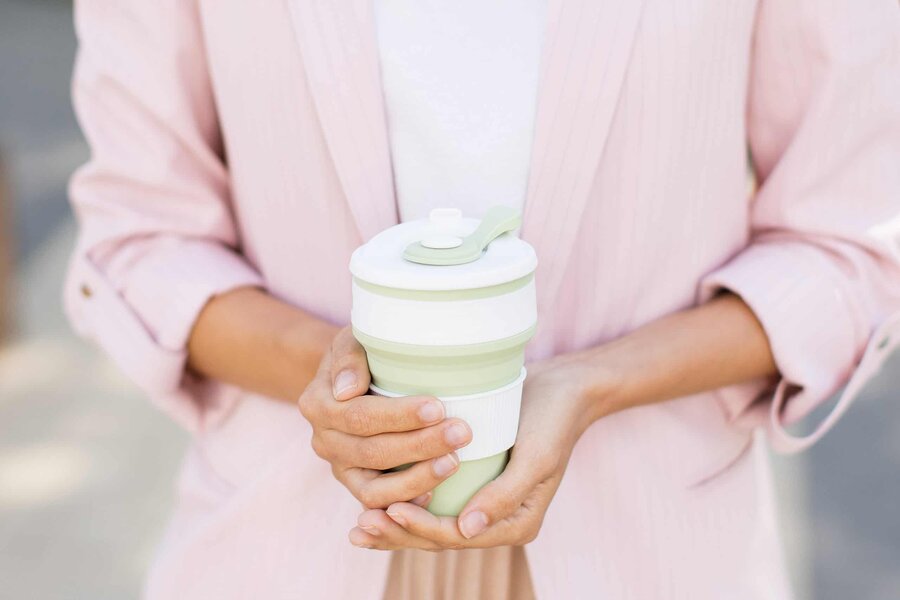 If you will be staying at roadside motels or hotels, you will likely be getting free coffee with your stay which is fantastic. But they give you those tiny little cups and there is so much waste with each cup with a cup, a sleeve, a lid, and a stirrer. If you are going to be drinking lots of coffee, be sure to bring your own mug and this way you get more coffee, it stays hot longer than 20 seconds from the lobby to the car, and you prevent more trash from your tiny little trashbag (and the world). A win-win-win.
> Related Post: The Ultimate Travel Essentials List
17. Play road trip games
Lastly, a fun tip that even the most mature adults will eventually fall victim to because every road trip hits that point: Road Trip Games. Nate and I always play games in the car and our favorite that can last a long time and requires a lot of looking is the Road Side ABCs Game. You have to find each letter of the alphabet in order & at the beginning of a word on a road sign (or any sign). A: Collins Ave; B: Bishop Court; etc. It's so frustrating when you see a "J" and you're not there yet because they are so hard sometimes to find!! We sometimes play against each other or together depending on our mood. There is also Punch Buggy, Yellow Car, Zitch Dog, and the State Plate Game!
This post was all about the best long distance road trip tips!