Vatican City is technically a city but also a country and worth a visit. It's an easy day trip from Rome and we'll answer: how much does it cost to visit the Vatican for one day?
At only 0.44 square km (0.17 square miles), the Vatican City is the world's smallest country. And it's completely surrounded by Italy, nestled in just on the outskirts of Rome.
We took a trip to the historic city on a day trip from Rome. We went during low season in February and loved every second of it. This is a quick outline of how much we spent in total on our full day in the Vatican.
We'll answer "how much does it cost to visit the Vatican?," Sistine Chapel ticket prices, how to get Vatican tickets, and more!
This post is all about how much it costs to visit the Vatican.
Vatican City Itinerary: 1 Day
Morning
Vatican Museums
Sistine Chapel
Afternoon
Lunch
St. Peter's Square
St. Peter's Basilica
how much does it cost to visit the vatican?
Since this is just a day trip from Rome, we won't include these stats. There is no airport in Vatican City and there are no hotels (open to the public) in Vatican City. That means you will have to stay in Rome and commute in. There are plenty of hotels just surrounding Vatican City but that puts you a bit farther away from the rest of Rome. Since transportation is convenient in Rome, I would recommend staying closer to the top sights in Rome and take the bus or subway in to Vatican City. I'll cover more of the transportation costs below.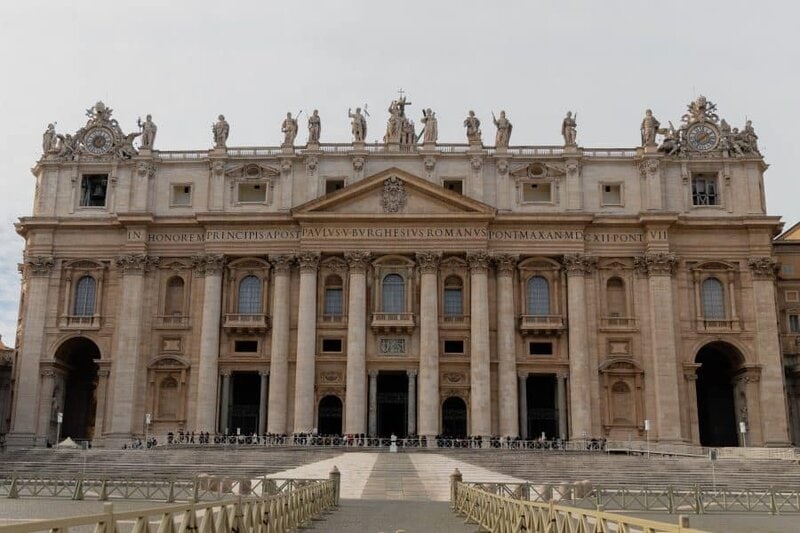 Total: $0
There is no fee to enter Vatican City by itself. You can walk through St. Peter's Square and St. Peter's Basilica for free. Since they are free, they are rather popular (i.e. crowded). The Square is gorgeous and easy to walk through and admire the incredible architecture and art even if it is crowded.
They do a great job at crowd control for the St. Peter's Basilica so that does cause long lines rather than crowding once you are inside. On the weekend and during peak season, you can expect lines upwards of 2 hours. It is gorgeous and a one-of-a-kind experience, so we do recommend it. If you are really set on seeing it, I would recommend arriving early for shorter lines or purchasing a skip-the-line ticket ahead of time.
If you want to visit the Sistine Chapel, the Vatican Museums, climb St. Peter's Dome, or the Vatican Gardens, you will need to pay for those entry fees. Those are outlined in the excursions category below. 
Total: $16
Since you will be spending a whole day at the Vatican, you definitely need to think of food. Since the Vatican is such a popular tourist destination (and rightfully so), you likely are going to pay a bit more for food than you would a few blocks away.
For food within the Vatican, there is a small food court within the Vatican Museums that you will only be able to access while in the Museums. It's on the route toward the exit. They get fairly busy around lunchtime but it's a quick and easy way to fill up and keep moving. We bought 2 pieces of pizza (massive) and 2 sodas at the pizza spot (the last one on the food court) for XX.
There is also a sit-down cafe in the one of gardens (where the giant pinecone is!), a quick coffee spot at the end of the Sistine Chapel, and a few other various spots to grab a bite. All of these are within the Vatican Museum and are only available to those that purchase tickets.
Just outside of the Vatican, there are a ton of restaurants and eateries. You'll definitely be able to find something for your tastes and budget. Remember: the farther you go outside the Vatican the cheaper it will be. And check reviews!
Total: $7
There are a few different options to get transportation to the Vatican. If you are staying close enough, you can walk! However, most of us will likely stay closer to the heart of Rome and require some transportation to get to and from Vatican City.
The cheapest option is public transportation. We love the public transportation system in Rome. It's hours are great, it's clean, easy to use, and affordable! I always use Google Maps while traveling and they have a great feature that tells you what routes to take. It works great in Rome. The metro and subway times are accurate but the bus times are not. They do give the right route, direction, and location of stops, though! We used it the whole time and never had a problem.
You can purchase tickets or passes and that may be cheaper. However, we never know how often we are really going to take public transportation so we opt for the easiest and most convenient option of Tap & Go®️. You simply use an contactless credit or debit card and tap it on the turnstiles or at the front of the bus/tram. It's €1.50 for 75 minutes (including most transfers).
Our hotel was in the northern part of Rome and we took a bus and transferred to another bus. We took the same route home and it was a relatively easy and fun way to see a bit more of the city.
If you are looking for a more convenient door-to-door method, you can call an Uber or a taxi service. They can drop you off in front of the Vatican Museum entrance or right at St. Peter's Square. This will definitely cut down on walking and won't involve a need for directions or transferring. But it will cost you and depending on the time of day, can take even longer than the public transportation can. Expect to pay anywhere from €15 – €25 for a ride from the center of Rome to Vatican City.
want a free long term packing list?
Know exactly what to bring on your long term travel adventure with this FREE Long Term Travel Packing List. Just enter your info below to join our weekly newsletter and get it sent straight to your inbox!
Total: $70
The main excursion we were excited for was the Vatican Museums. We purchased our tickets ahead of time on Headout. This gave us an opportunity to "skip the line." However, it still involved a lot of waiting and we had to enter as a group with everyone else. We did get to skip the line that was waiting and I think all the groups entered before the line outside did. In the busy months this will be a good idea since the line can get long and may even sell out.
The Sistine Chapel is certainly the top sight to see while in the Vatican Museums. But there are technically 54 museums within the Vatican Museums umbrella! You'll never have time to go through all of it but you can spend a good 2-3 hours wandering through looking at the highlights. We decided to not purchase a guided tour or an audio guide. Instead, Rick Steve's offers a wonderful (and free) audio tour on his app, Rick Steve's Audio Europe. We both put in one headphone and played it through the whole museum. It guided us as well so we didn't get lost or look at anything that wasn't worth our time.
We also took Rick's audio guide through the Sistine Chapel and St. Peter's Basilica (which includes St. Peter's Square). All for free and learned a TON!
There are a few other activities that you can pay for that we did not get a chance to do. You can visit the Vatican Gardens. These gardens take up more than half the country and are a gorgeous oasis in the middle of the bustling city. These are strict limits on the number of guests and costs around $35 per person for a 2-3 hour tour. It does include parts of the Vatican Museums and potentially the Sistine Chapel, so check out your specific itinerary ahead of time!

You can also climb to the top of St. Basilica's Dome. This magnificent dome has spectacular views over St. Peter's Square and beyond. You do have to pay to make your way to the top. You can climb the stairs for €8 per person or take the elevator for €10 per person!
Lastly, you could book a guided tour. This could be a private tour or part of a larger tour group. We personally don't love tour groups. We feel like we get inundated with information, don't have time to see what we want, and feel pressure to stick to the set schedule. They do work great for some people and you can learn a ton. Plus they often include transportation, so your whole day is taken care of without too much planning on your side.
A private tour of Vatican City will cost anywhere from $150 per person to $350 depending on what you want to see. If you are interested in a group tour of the Vatican (including transportation) there are a ton of options starting at $35 per person.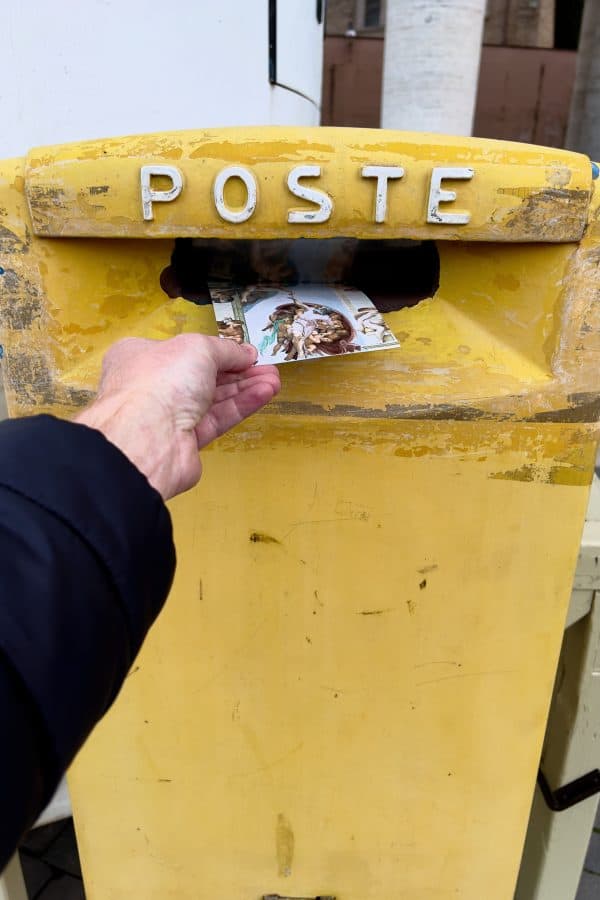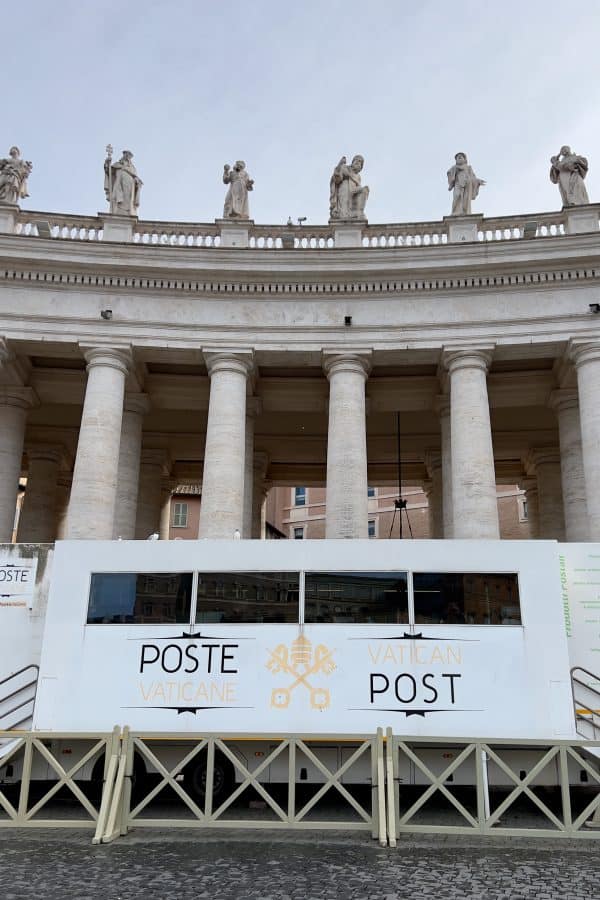 Total: $30
Since this was our 31st country and we likely will only be visiting one time, we did pick up a few souvenirs. There are a few gift shops on the outskirts of the Vatican and an official one inside the museum. We picked up a handful of postcards to send to friends and family. These were inexpensive (no more than €1 each) but the stamps to get them sent from the Vatican post office were very expensive – €2 each!
Total Spend in the vatican
Total: $123
Average: $61.50 per person
In total, it was a bit more than our average day of exploring but we saw a ton! The tickets to the museum were fairly expensive (and that was the majority of our spending) but so worth it. To see the Sistine Chapel in person was unbelievable. The opulence of the Vatican is next level and we are so happy that we could make the trip out to the world's smallest country!
This post was all about how much it costs to visit the Vatican for a day trip from Rome!