Before we started this adventure, we were constantly asking ourselves "how do people travel so much?" We've since made that a reality and this is how we afford to travel the world full-time (spoiler alert: you can too!).
Nate and I have traveled full-time with no home base for 3 full years. We have been able to fully finance this trip ourselves and have only just started making a very small amount of money (but we are working on growing those income streams!). Travel is a huge part of our lives and we want to share exactly how we've done it, so you can too!
Our travels are not the "backpacker" style of travel. We stay in nice hotels, rarely stay in hostels (and only in private rooms), eat at nice restaurants, book tours, and travel to a wide range of countries. It is possible to travel on a budget but still spend money on what matters to you!
We'll cover more about how we can afford to travel full time, how other people travel so much, how to travel with a low budget, travel for a year, how to travel more with a full time job, and more!
Quick Disclaimer: We are not financial advisors. This content is for educational purposes only and gives our personal opinions. In order to make the best financial decision that suits your needs, you must conduct your own research and seek the advice of a licensed financial advisor if necessary. Always do your own research and make smart choices when working with your money!
This post is about how we afford to travel so much and you can too!
How We Afford To Travel Full-Time
This is the absolute key to our travels. Since we have been together (over 5 years), we have always been very open about money together. We both decided that saving money was a huge priority for us. This allowed us to be on the same page with our spending and saving habits. It took a lot of work and testing different methods to find what worked best for us.
Eventually, we fine-tuned our spending categories to only spend money on stuff we cared about. For example, we did not need to newest car or best amenities at our apartment (both very large spending categories). We were able to find easy ways to save money by buying used cars with good gas mileage. And we rented an apartment with the barebones of what we needed (no pool, gym, or outdoor space). 
However, we did love getting out of the house on the weekends, so we found something we loved and both got Disneyland Annual Passes. Even though they were fairly expensive, we could afford them, and we made room in our budget to "splurge" on something we loved.
Overall, we saved over 50% of our income every single month. In a little under 3 years, we were able to save over $100,000 between the two of us. Since we hadn't yet built a way to make money passively, these savings have allowed us to travel for over 3 years with little to no additional income.
I'll cover more about how to maximize your savings below!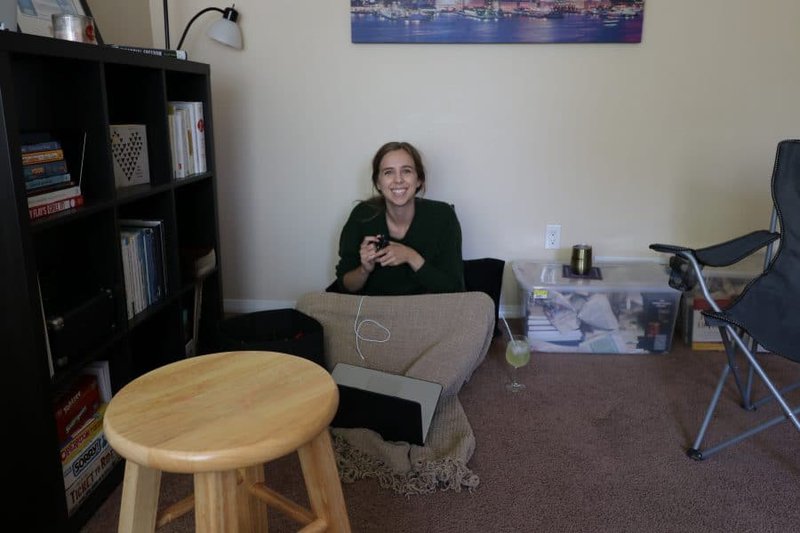 One way that we were able to boost our bank account was by selling nearly everything we owned. We sold our cars, all of our furniture, designer bags, technology, clothing, shoes, kitchen appliances, and decor. Anything we owned that wasn't going to come in our two suitcases and two backpacks were listed for sale. Turns out we had a lot of stuff, things I hadn't seen in years. So even if you aren't planning to pack up your whole life into two bags for a full-time life on the road, you can certainly find something in your house that can be sold.
In total, I listed over 200 things on OfferUp, Facebook Marketplace, Poshmark, and Craigslist. We ended up selling around 100 things and made $3,000 + $7,000 for our 2 cars. It definitely took a lot of time to get everything listed but doing 1 or 2 things a day helped break it down.
Going back, I wouldn't list nearly as many things as I did the first time. Technology, furniture, and kitchen appliances are the biggest sellers by far so focus your energy there, first. And Poshmark is a great platform for high-quality clothing like business wear, formal dresses, designer bags, shoes, or winter coats. Other than that, small electronics, older clothing, books, movies, and any random kitchen accessories rarely sold and took much more effort to wrangle together and take photos and list for sale than they were worth.
Are you covered for your next trip? Whether you're planning a quick weekend getaway or a long-term adventure, SafetyWing has you covered. From medical emergencies to lost luggage, they'll take care of it all. Plus, they even offer emergency response and natural disaster coverage – pretty cool, huh? So next time you're packing up to head out on a trip, don't forget to grab your SafetyWing insurance!
We got a good return rate
Reminder: we are not financial advisors and you should conduct all your own research prior to working with your money!
We have always been interested in finding the best return for our money. We decided to put the majority of our money in an easily accessible high-yield savings account. This allowed us to pull out the money quickly to pay our bills but still earn a much higher interest rate than regular checking and savings accounts can give. 
These are some of our favorite high-yield savings accounts! 
Synchrony Bank 
American Express 
Charles Schwab 
By putting our money in a high-yield savings account, we didn't get any penalties or additional taxes for pulling out money (as you could in other investment accounts). We also were able to earn around 2% in interest which really doesn't sound like a lot (and hardly keeps up with inflation). But 2% of $100,000 is $2,000 and could easily book us 2 more weeks of travel! For free!
This is obviously a big lifestyle change. But for us, we knew we wanted to go all-in on traveling and starting our own business in the travel space. Quitting our jobs was essential to our goals. We knew that with the savings runway we had created for ourselves, the worst that could happen would be that we would be right back where we started and have to get another job in the same industry.
We both worked in-person jobs at hotels in San Diego and going remote was not possible for us. I even tried to go remote for just a few days a week about a year before we left and unfortunately, my company was unwilling to make that work for us.
At the time we could have gotten online jobs in a different industry but we decided to be all in on travel and our new business, The Passport Couple. This will look different for everyone but it has worked out for us so far!
want a free long term travel Pre-Trip Checklist?
This is everything you need to do before you leave for your long term travels. Just enter your info below to join our weekly newsletter and get your Long Term Travel Pre-Trip Checklist sent straight to your inbox!
The first few points were about how we started on this journey financially. The next few are how we have continued to keep our travels funded after over 3 years of travel.
Since we have always been interested in personal finances and clearly saved quite a bit of money prior to leaving for travel, budgeting is second nature for us.
Now don't leave yet, budget is not the horrible penny-for-penny calculations and math that it seems. We use a really helpful (and free) program, Mint. This program is connected to all our credit cards and every purchase gets automatically added to their database. We simply have to categorize them and can easily see an overview of what we spent every single month in every single category. 
Our budget categories are a bit more broad than some because we have such an ever-changing lifestyle. We never really know what our spending categories are going to be let alone how much we can expect from them. We budget for our fixed expenses (mail service, Netflix, work programs, etc.) and our biggest and most predictable categories (flights and accommodations). Other than that, we have an overall monthly budget, subtracting the categories above and the rest is for everything else (food, transportation, excursions, etc.).
Every week, we update our categories, add cash spending, and review our totals in Mint. And then at the end of the month we will review how well we did in our categories versus our budget and previous months.
Doing this together has really helped us to be aware of our finances and spending together. It makes it more of a team effort than one person keeping everyone accountable.
Monthly Budget: $5,000.00
– Fixed Expenses: $750.00
– Accommodations Budget: $1,400.00
– Flight Budget: $500.00
Total Variable Budget: $2,350
We Make an Income Remotely
This is a relatively new source of funding for our travels but one we are working on! We started traveling in hopes to monetize our business and continue to live a life on the road indefinitely.
Our main source of income right now is through YouTube's Partner Program. We earn ad revenue on every video we post. A recent uptick in views has allowed us to earn quite a bit more.
We have also started integrating advertisements in our video (integrated ads) for companies. These companies will pay us a set amount per video and we film usually a 60-second ad read that gets placed in our video. Lots of YouTubers do this ("this video is sponsored by") and it's a great source of income.
We also earn money through Ads on our website although this is fairly negligible as of yet.
I have started creating products with our extensive knowledge of full-time travel and travel planning. I sell these on our shop.
Lastly, we are starting to make money through affiliate links. When we recommend a product we can link to their shopping page (hotel room, suitcase, etc.) and earn a commission off the purchase. This requires a lot of eyeballs on your links and a lot of trust in you as someone recommending products or services.
All in, that is how we fund our travels for a life of full-time travel!
This post was all about how we afford to travel so much and hopefully you can take some of our methods and lessons to find a way to travel long term, too!